Our Vacations
This Page Updated on October 7, 1998
---

Walt Disney World
On June 20, 1997, Ida, Alvin, and I went to Orlando Florida for a week at Walt Disney World. It was our first wedding anniversary, and we had been planning this trip since the previous September. We stayed at the Walt Disney World Contemporary Resort. This picture is us standing at the entrance to our hotel. Our room was nice, but they put us in the one room that was furthest from the main area where the monorail took us to the rest of Walt Disney World.

Everyday was warm (about 80 degrees) and very humid. Each day started out very nice and clear, but come about 5:00 PM a thunderstorm would come up and rain for an hour or so. Despite this, we were lucky to keep pretty dry just by chance. Either we were on the monorail, at a restaurant eating, or inside some attraction.

While we were there we were able to visit all the major parks at Walt Disney World.

Just by sheer coincidence, our good friends, Ken and Darlene Smiley and their two children, just happened to be visiting Orlando during the same week. Darlene was there on business. Ken and the two kids Ken Jr. and Kelly came along with her to enjoy Walt Disney World too.

On several occasions we were able to meet up and do things together. Here is a shot of Darlene, Ida, Kenny Jr., Kelly and Alvin on our first day at Epcot.

We spent most of our time at Epcot out of all the parks. Ida, Alvin and I first visited Epcot in the evening the first night we arrived in Orlando. The next day we spent the whole day there with the Smileys, until the park closed with their daily evening fireworks show.

Despite these two visits to Epcot, we still did not get to see everything there. It required a third trip on another day with just Alvin, Ida and myself to get it all in.

One of my favorite things about Epcot is the international showcase where twelve major countries of the world are all represented in twelve separate sections all around Epcot lake. Specifically, my favorite showcase is the United States pavilion. This showcase really makes one proud to be an American citizen.

This next picture shows Ken Sr., Kenny Jr., and Alvin trying to keep cool by the fountain just outside the United States Pavilion.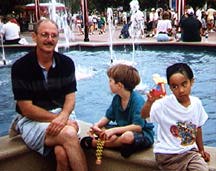 On a different day, while poor Darlene had to work, the rest of us went to the Disney Market place, where we had our picture taken with the famous Mickey Mouse.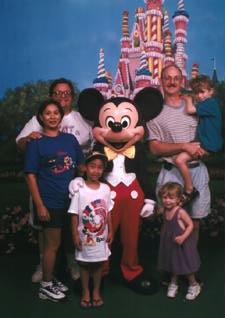 One of Alvin's favorite memories was going to a character dinner, where we dined with many of the great Disney characters. The cook (Mickey) took some time out from the kitchen to visit with the guests. Here is Ida and Alvin with Mickey.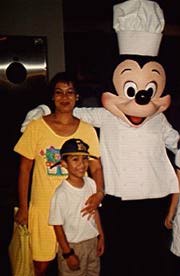 Alvin even told Goofy a joke which made Goofy slap his knee and guffaw. Alvin's joke was "Hey Goofy! Why did Mickey Mouse go into space? ... To see Pluto!" Yuk Yuk Yuk!
---

The Big Island of Hawaii
In September of 1997, Alvin, Ida and I spent a week on the Big island of Hawaii. During our honeymoon, just Ida and I visited the islands of Maui, Oahu, and Kauai. We missed the big island of Hawaii itself. So this time, we took Alvin and spent a week on the Kona coast. After our dismal experience with a Luau on our honeymoon, we were determined to do it right at our hotel, the "King Kameamea" in Kona.

Here is a picture of us just entering the Luau. This one was so much better than the one we attended on our honeymoon in Maui (which was indoors).

While on the Kona side, we visited a Kona coffee farm where I bought six pounds of pure Kona coffee at a great price of $7.00 per pound. Ida thought I was crazy, but I think I got a great deal since it is typically $22.00 per pound here on the mainland, if you can find it. You usually can only find Kona blends. Hawaiian coffee is the best in the world because it is the only US grown coffee, and hence is pesticide free because of US agricultural laws.

Alvin and I also too a submarine ride to see the coral fish beds.

Stay tuned! This page will be showing some more about Hawaii and other vacations in a few days.
---
Home | Family | Wedding | Honeymoon | Vacations
Interests | Resume | eMail