Wedding Pictures
This Page Updated on October 7, 1998
Here are some pictures from my Wedding to my lovely wife Ida on
Saturday June 29, 1996.
---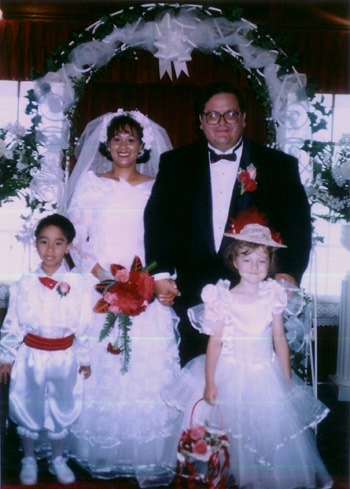 Here Ida and I are with The Ring Bearer, our son Alvin, and
my niece Alison, The Flower Girl.
Alison is secretly running the whole ceremony.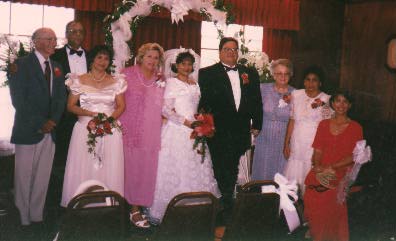 This is the wedding party.
From left to right are :
My Grandfather Art Smithen, Best Man Uncle Bobby Clark,
his wife Matron of honor Virginia Clark, my Mother Janet Smithen,
my Bride Ida, myself, my Grandmother Lillie Smithen,
my Mother-In-Law Genoveva Miguel,
and my wonderful Sister and Mother to Allison Julie DeAlmedia

---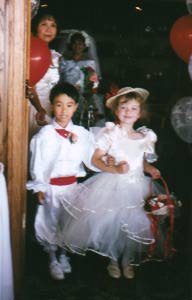 Our reception was just a few steps through the Ports-o-Call village to the Ports-o-Call restaurant, where we stayed in the Harbor room over looking the Los Angeles Harbor with Cruise ships, freighters, tug boats and various yachts passed by.

In this picture, the Ring Bearer (Alvin) and the Flower Girl (Alison) are being announced to the reception. Our big question is who is escorting who in this announcement ???
---
This page's Music selection is : Macarena. Because everyone at the reception learned how to do it.

Home | Family | Wedding | Honeymoon | Vacations
Interests | Resume | eMail